Beach Cleaners Machines Unicorn
Beachcleaner Runner Evolution
Speed, efficiency and safety for cleaning all kinds of beaches
The Unicorn Runner is characterised by its cleaning quality, quick and efficient operating capacity, reinforced chassis and first class internal components.
If there is a single general factor that characterises UnicornRunner beach cleaning machines it is their total versatility for a multitude of sandy beaches. This model of beach cleaning machine guarantees that the beach will be left completely clean with fluffy, healthy sand. The special design of the internal mesh and the vibratory rollers of the Unicorn Runner allow it to sift the sand much faster than the usual speed for this type of machine. Meanwhile, cleaning quality is assured by the type of mesh and the vibratory system used. In normal working conditions, it can clean an area of dry sand of over 22,000 m2 per hour.
The Unicorn Runner can remove cigarette butts, small glass particles, plastic bottles, drink cans, reeds, sticks and all kinds of objects that might endanger the health of visitors to the beach and the standard of hygiene of the sand.
In addition, there is the option of adapting the Unicorn Runnerwith a special mesh that allows it to remove the majority of conventional seaweeds, as well as other debris of considerable size and weight that is commonly found after storms at sea. As an optional extra, the Unicorn Runner can also be equipped with a complete and effective disinfectant system.
The Unicorn Runner is versatile, very easy to manage and does a quick, high quality job.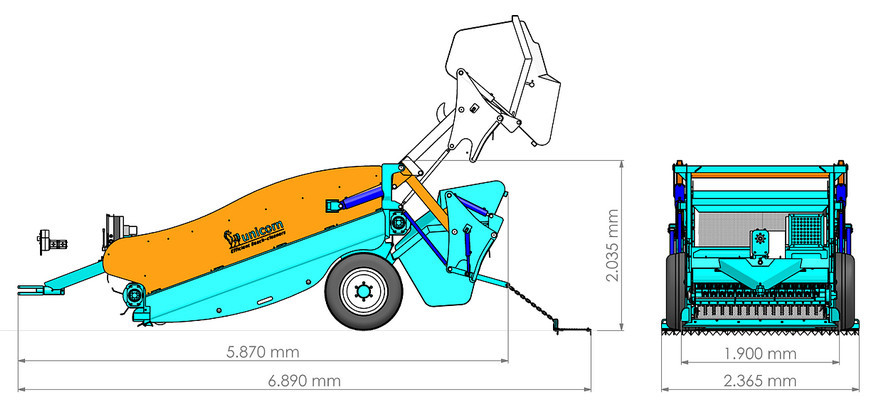 TECHNICAL INFORMATION
Traction vehicle: 4 x 4 tractor.
Towing power: De 90 a 120 c.v.
Cleaning system: Hinged mesh in high density 23 mm steel.
Working width: 1850mm.
Operating depht: De 0 a 300 mm.
Power from tractor: 540 rpm.
Hopper capacity: 1,5 m3.
Unloading height: A 2,5 m.
Weight: 2.300 kg.
Vibratory: 3 continuous, vibratory rollers (prevents sand build-up).