Beach Cleaners Machines Unicorn
Beach Cleaner - Magnun Evolution
These are the ideal beach cleaners for optimum cleaning, aeration of the sand and removal of small objects, whether on the surface or buried.
Your guarantee for perfect clearing and cleaning of large beaches
Thanks to its operating width, the Unicorn Magnun can tackle the cleaning of the largest beaches with extraordinary speed.
The Unicorn Magnun is the result of our collaboration with clients who needed effective, safe and rapid cleaning of very large beaches.
This model is very easy to manage. It has a large capacity rear hopper that can unload at a height of 2.50 m. What makes it especially suitable for large beaches is its operating width: 2.30 m. The whole chassis is reinforced in view of the resistance it needs to provide. Disinfecting equipment can be incorporated so it can carry out this function at the same time as sifting the sand.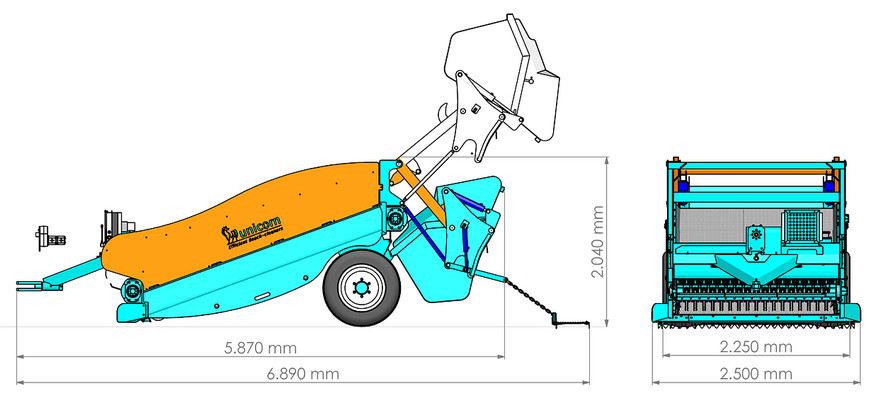 TECHNICAL INFORMATION
Traction vehicle: 4 x 4 tractor.
Towing power: De 100 a 150 c.v.
Cleaning system: Hinged mesh in high density 23 mm steel.
Working width: 2500mm.
Operating depht: De 0 a 300 mm.
Power from tractor: 540 rpm.
Hopper capacity: 2 m3.
Unloading height: A 2,5 m.
Weight: 2.950 kg.
Vibratory: 3 continuous, vibratory rollers (prevents sand build-up).