Beach Cleaners Machines Unicorn
Beachcleaner Sargassum
The beachcleaning Scarbat machine is specially constructed to withdraw seaweed and to raise sargasso in an easy and comfortable way
Machine specially conceived to remove seaweed and sargasso / sargassum in large beaches.
The beachcleaning Scarbat machine is specially constructed to withdraw seaweed and to raise sargasso / sargassum in an easy and comfortable way. The front compress adapts to every type of seaweed and allows to work on a high speed, removing all kinds of seaweed and sargasso.
The Scarbat makes a double work, since it raises or gathers the sargasso / sargassum and the seaweed, and at the same time it realizes the process of sifting the sand, returning it to the beach and separating it from the seaweed or the sargasso. This process is realized inside the machine beginning with the mobile pick-up and continuing in the mesh sifter.
The Scarbat has a back hopper of great capacity and can come out to 2,5 meters of height. He has a very robust chassis and with the option to be galvanized. The working width is 2,5 meters.
The control of the machine is very intuitive and easy. It can be handled by any person who is able to lead a tractor. The learning process of this machine is very rapid.
The hydraulic system allows an independent control from the speed of rotation of the pick-up and the speed and sense of rotation of the mesh sifter. It separates the sand from the seaweed and therefore it returns the sand to the beach, loading only the sargasso or the seaweed.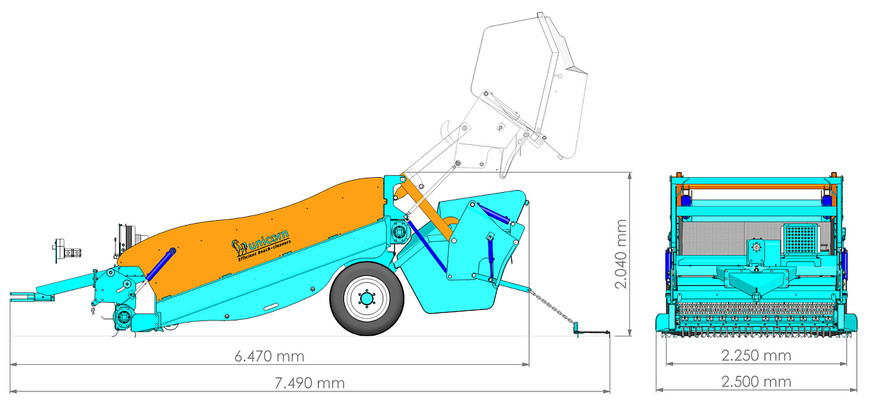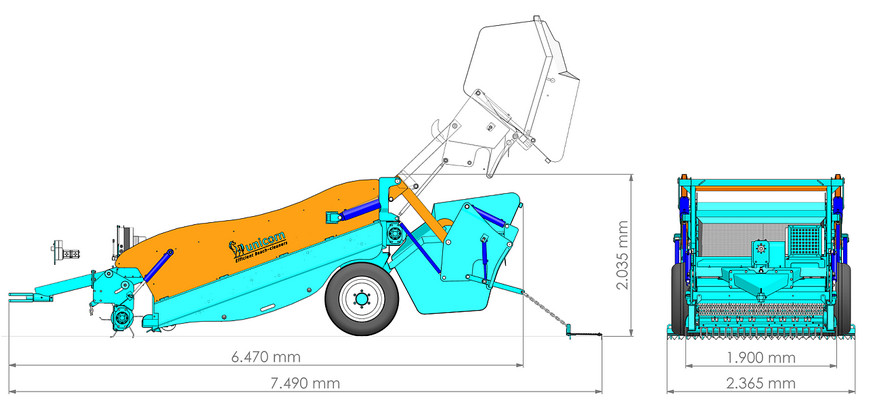 TECHNICAL CHARACTERISTICS
Vehicle of traction: 4X4 Tractor.
Power of traction: from 80 to 100 c.v.
System of cleanliness: Mesh sifter hinge in high density steel 23mm.
Working width: 2500mm.
Depth of work: from 0 to 300 mm
Capture of force: 540 rpm.
Capacity of the hopper: 2 m3.
Height of unload: To 2,5 m.
Tare: 3.120 kg.
​Vibration: 3 rollers in constant vibration (it eliminates raise of sand).